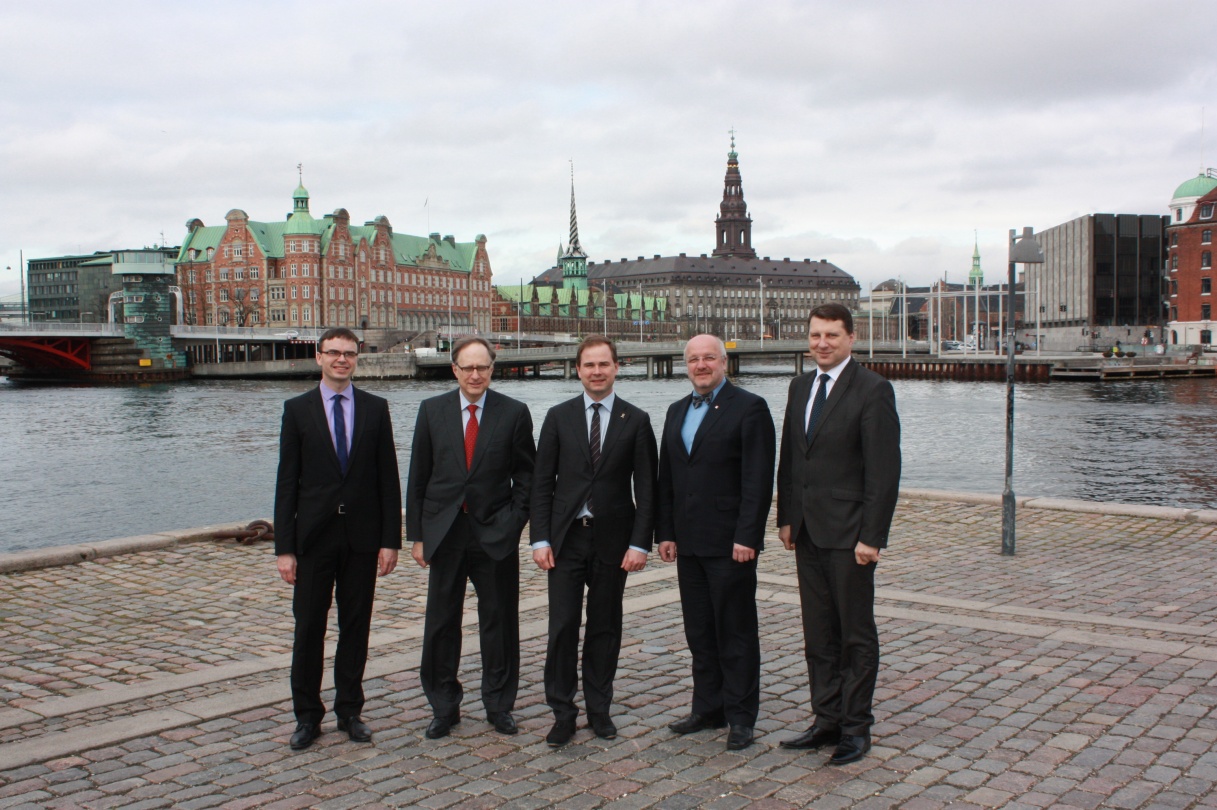 Danijos gynybos ministerijos nuotrauka

Balandžio 10 d. krašto apsaugos ministras Juozas Olekas dalyvavo Kopenhagoje (Danija) vykusioje konferencijoje, skirtoje paminėti Baltijos šalių narystės NATO dešimtmetį ir aptarti jų bendradarbiavimą su Danija gynybos srityje. Ministras J. Olekas konferencijos dalyviams skaitė pranešimą "Nacionalinis požiūris: kelyje į NATO ir būnant NATO nare išmoktos pamokos ir bendradarbiavimo ateityje vizija" (angl. k. – National perspectives on the processes of becoming and being NATO allies (lessons learned) and visions for future cooperation").

Savo kalboje ministras pabrėžė Aljanso vienybės svarbą ir ragino galvoti apie NATO sienų apsaugą.

"Kuo toliau NATO vystosi ir tobulėja, tuo daugiau dėmesio būtina skirti jo integralumą stiprinantiems projektams. Turime kalbėti apie NATO sienų apsaugą. Ji aiškiai matoma NATO Baltijos šalių oro policijos misijoje, kuri yra puikus išmaniosios gynybos pavyzdys, užtikrinantis efektyvų Aljanso išteklių naudojimą. Tačiau verta šią idėją plėtoti dar toliau, apimant ir kitus NATO sienų saugumo aspektus", – konferencijoje sakė ministras.

Kalbėdamas apie per 10 metų NATO narystės išmoktas pamokas ministras pabrėžė, kad galima kalbėti apie pajėgumus, parengties ir sąveikumo lygį, kurie yra labai svarbūs. "Turime matyti pasaulį vienu žvilgsniu, kad mums nepritrūktų politinės valios veikti. Vertybės yra mūsų sprendimų pagrindas iškilus krizėms ir tai yra svarbiausia mūsų išmokta pamoka", – teigė J. Olekas.

Ministras savo kalboje taip pat ragino prisiminti ir NATO Atvirų durų politikos reikšmę. "NATO Atvirų durų politika įrodė esanti vienas efektyviausių būdų plėsti saugumo, stabilumo ir gerovės erdvę Europoje", – sakė ministras J. Olekas. Visa kalba (anglų k.) pateikiama žemiau.

National perspectives on the processes of becoming and being NATO allies (lessons learned) and visions for future cooperation

It is rather symbolic to celebrate 10th anniversary of Lithuania's membership in NATO in Copenhagen as it was Denmark whose support and advice led Lithuania to the membership in the Alliance.

Not that long ago there was a ceremony naming one of the halls in the NATO Energy Security Centre of Excellence after late Hans Haekkerup, former Danish Minister of Defence. Hans Haekkerup was chosen not because of the lack of the national heroes but because he has left a very special mark in modern Lithuanian history. He was not only a very active and devoted Minister of Defence, he was one of the best ever. Hans Haekkerup was a courageous icebreaker able to see beyond the horizon. He did understand that whole and integrated Europe at peace could be created only through collective thinking and collective actions. This believe led him to be one of the strongest supporters of the so called BALTDREAM projects what have not only integrated this part of the world but also were a very useful tool attracting Western support and assistance both by material but also, what is even more important, by intellectual means.

At the time when our membership in the Alliance was just a dream Hans Haekkerup took courage and brought Lithuanian soldiers as a part of Danish contingent into our first international mission. 1994 was a beginning of Lithuania's modern history as a security contributor.

It took us 10 years of intensive but honest discussions with NATO Allies. Together we had to resolve the question of indefensibility of the Baltic States, we had to defend our right to choose the family we want to belong to. After all we had to change our own way of thinking, we had to learn to trust.

At that time in Lithuania there was even a saying that NATO is like a God – everybody says it will come, but nobody knows when. But we were ready to wait and I do not blame Western Allies for such a long decision process.

After all, 10 years are not that long when one has to solve a dilemma – small and capable Alliance with effective decision making versus big and amorphous Alliance unable to take decisions and act effectively. It was effectiveness and efficiency of NATO that was at stake and we did understand the complexity of the decision Allies had to make.

Smaller the group is, easier it is to find a common ground and vice versa. However there is one glue which can compensate the problems caused by the enlargements. And that glue is values. We can talk about capabilities, readiness, and level of interoperability which all are very important and indispensable. But they are not enough if we do not share the same values, if there is no mutual trust and respect. We have to see the world through the same lenses to generate a political will to act. It is values that make a basis of our decisions during the crises and this is the most important lesson we've learned.

One might ask how to assure that we all adhere to the same values, we trust and respect each other? My response would be through common actions and common projects. Positive interdependence is something we have always invested our efforts and our resources into. That is why we are members of C-17, AGS and other projects. That is why we are investing our efforts into regional cooperation. That is why we kept our international obligations and our commitments to our Allies unchanged even during the lowest of the economic crises – we kept our PRT, we have our Special Operation Forces, Air mentoring team and other engagements in Afghanistan and other operations and missions unchanged.

I am convinced that positive interdependence is the way to follow. The bigger NATO goes, the more attention we should pay to the project assuring integrity of the system. Why not to think about securing NATO borders? We do already have a germ of this idea in persona of NATO Air Policing mission which is a perfect example of smart defence assuring effective use of the resources within the Alliance. Why not to elaborate this idea further on encompassing other elements needed for border security? Why not to rotate our forces so in time of crises we would know and feel each other, we would have built the brotherhoods which are essential in times of crises?

Sometimes I hear people saying that it was a mistake to revert to professional army and we had rather to focus on territorial defence concentrating all our efforts for this purpose. I would rather challenge this position as it places too much focus on self-defence leaving cooperation, spirit of collectivism aside. But NATO is about collectivism, about trust, about the reliance. We cannot develop these important ties without being and acting together.

Smart defence, CFI are good concepts pushing us to cooperate more closely. I do understand that all the above mentioned can be seen as a challenge to our mentality, to our todays way of thinking, but we can also try to see it as a possibility to strengthen collective thinking, our Alliance, our freedom, our sovereignty. The spectrum of the threats to our security is growing and our defence budgets are not. We will not be able to solve all the problems alone. Maybe soon will come time when we will not have separate national Armed Forces but rather compilation of the Force Goals which would be response to the more rational use of the resources.

The second lesson, although not the new one is that situation is changing and we have to be ready to adopt. Only the system that is capable to adopt and to change the situation to work in its favour can survive. There are three elements we need to think about. Firstly, we have to change our perception of defence. Modern defence encompasses new aspects. In 1994 we didn't even imagine cyber to become a new dimension of war. We did not talk about energy efficiency in operation, importance of green defence or energy as a toll of the offense. We did not count victories or defeats of the information campaigns. We did not talk about the capacity building which has become a valuable and sought after tool solving today's security challenges and consolidating and anchoring the gains of our military operations.

Secondly, we have to change our rules of the game, including decision making procedures. At the time when we might have practically no warning, no space to prepare ourselves we need to think about delegating more powers to SACEUR. Thirdly we need to redefine our military presence. We have to make sure we have all the necessary tools in place and are ready to act at any time given.

Third very important lesson we've learned is that collective defence must be credible not only in words. To keep defence credible we need to have defence plans, we need to practice them, we need to have adequate Level of Ambition and we need to invest into infrastructure needed. There is a very old and very wise saying that in order to have a peace one needs to be ready for war. Thus in NATO we need to assure we are ready for the most dangerous scenarios encompassing both unconventional as well as re-emerging conventional threats.

Another lesson we've learned that we still need to assure inclusiveness of NATO membership notion making our societies understand that NATO is not MOD business only. Security underpins every aspect of the State's life and serves a basis for economic development assuring prosperity of the state. There is more pressure on the military to face todays and future challenges but they are very costly and societies have to be ready to invest.

Finally I would like to touch upon open door policy. NATO Open door policy proved to be one of the best tools expanding zone of security, stability and prosperity in Europe. However there were promises made but unfulfilled. We did not use the window of opportunity that was open. But there are no empty places in nature and the opportunity we missed was sized by Russia. I believe this is the lesson we have to learn dealing with our partners and constructing our common future.